SAN DIEGO (CBS 8) – A local man is asking for your help in finding his best friend. Michael Bettancourt's dog Joe Joe was thrown from his truck during an accident on Interstate 15 last month, and hasn't been seen since.
There's an empty feeling every time Michael sits in his oversized chair at his Chula Vista home. It's where his beloved dog Joe Joe would typically lay beside him and watch baseball after a long day.
"I still haven't gotten through a day without crying," he said.
It's been a month since Joe Joe disappeared on I-15 near Miramar Road. Michael says he lost control of his truck after getting a flat, then flipping and slamming into a light pole. The impact threw Joe Joe from the passenger-side window, which was rolled down so the five-year-old Boxer could hang with his paws out the side.
"We're kind of wondering if someone might have him and think thought that he's a stray," Michael said.
Since the accident, Michael has tried to track down his canine companion through flyers, local animal shelters and even vet clinics, but so far Joe Joe hasn't turned up.
"We post just about everyday on Craigslist. And we check lostdogsandiego.com," he said. "We got an escort on the base and we checked on the other side of the fence there, couldn't find anything."
For Michael, Joe Joe isn't just his best friend, he's family, and he's desperate not only to get him back to play catch with his favorite toys, but back beside him in his oversized chair.
"He's my baby, I love him so much," he said.
If you think you may have seen Joe Joe or have any information that can help, contact News 8's Adrienne Moore through Twitter.
Source CBS8.com
More info about Joe:
Breed: Boxer
Age: 5 years old
Last seen: 4/12/11, on I-15 North at Miramar
Note: Joe is a skiddish dog; ran away after owner had a car accident. Dogs front leg MAY BE INJURED
Please call: Mike 619.818.5492 or Monique 619.818.6876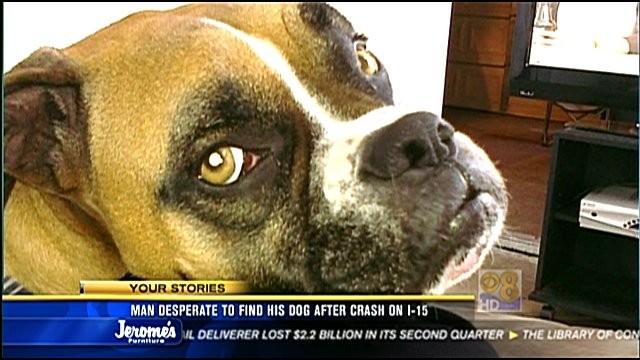 __________________________________________________________
Don't have time to exercise your dog, or need a pet care service? Contact Unleashed Dog Fitness today for a free evaluation!